A new mix full of everything has been uploaded! Check the sound section for more.
------
New releases:
The magic Superlongevity 5 compilation with 28 unreleased tracks is out on two different formats on Perlon!

Katapult festival celebrates with a nice cd compilation available on Karat records

Sonja's first release on Ruta5, more infos on the label section

and there is much more to come!
------
Taking time off to square herself in the studio, Sonja is cooking some delicious tunes for Karat and Ruta5, the latter beeing finally back on wheels!
------
Some nice reviews of Kalk Pets 16
------
End of april is the magic date for the adventurous new release of Kalk Pets! One not to be missed, with three very particular remixes bringing fresh oxygen to the dancefloors.

Suffering Neuton's bankrupcy at the end of last year, the Neopren 17 from TK.Kim with Akiko and Sonja's remixes is finally out and distributed by Straight distribution. Again available in all stores, physical or virtual!
------
After the last Daniel Meteo remix on Kalk Pets, Sonja is about to finish another remix for the new Pop 3 EP, containing original tracks plus a remix from Akiko Kiyama. It will be released on Neopren in novembre this year.
the band Maluco just released its first album on Karaoke Kalk, and an EP made of remixes will feature a female trio made of Chica Paula, Dinky and Sonja. More infos soon..
------
"Mixes from the balcony" is out now on monika enterprise! The amazing Chica and the folder's new album too! Both releases are available in any good record store, online shop or through beatport.





Here's the tracklisting:
A1 Angelus Novus - Ricardo Villalobos Ritus Mix
B1 Soufflé - Sonja Moonear Dans ma casbah Mix
B2 Perfect Day - Pikaya Mix

------

Sonja Moonear just finished a remix for new born english label "fine art recordings". Release date is July 17th. You can already find it in vinyl via kudos or in mp3 via juno.





1st review from "machines are funky"

------

She contributes to the next Katapult compilation thought for their 10 years anniversary. The CD compilation finally appeared in the shops in february this year.

Some reviews (groove, textura, electronic beats...)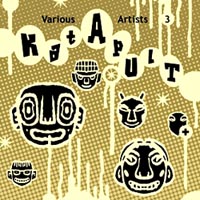 The CD compilation can be ordered via kompakt
Each track can be separately downloaded via beatport
The 2 vinyls (samplers edition) - karat 31 & 32 - will be available in recordstores in september

-----
Some press: